About the choir
Hägersten A Cappella is an ensemble which resides in Uppenbarelsekyrkan (Swedish church of Hägersten) in Stockholm, Sweden. The choir consists of 40 members between the ages of 18-35 and is additionally a part of the extensive choir function within the congregation. Numerous of the members have been active in the choir for several years.
The choir is frequently performing in their main church, on tours and in several other contexts. ​They have​ also participated in a number of choir competitions and their success has been very prominent.
The repertoire of the choir is varied with emphasis on classical music and with a penchant for music written by Swedish composers. The choir have launched two albums, Pacem performing music written by Herbert Howells, Byrd and Stanford, and Suites for Voices and Instruments 1-4, a collaboration with jazz pianist and composer Elise Einarsdotter.
Qualifications
2022: Baltic Sea Choir Competition in Jūrmala, Latvia

Winner of Grand Prix
Best conductor
Best compulsory piece

2018: Venezia in Musica International Choral Competition in Sacile, Italy (Meeting Music)

Winner of Grand Prix
First prize in category Mixed choir
First prize in category Musica Sacra

2016: Concorso Corale Internazionale in Riva del Garda, Italy (Meeting Music)

Winner of Grand Prix
First prize in category Mixed choir
First prize in category Musica Sacra

2014: Participation during the performance of the St Mathew's passion by J S Bach at Folkoperan under the direction of Joshua Sofaer
2014: Choir competition in Fundão, Portugal (Meeting Music)

First prize in category Mixed choir

2012: Choir competition in Calella, Spain (Interkultur)

First prize in category Mixed choir
About the conductor
Kerstin Börjeson​ is an alumna of the Royal College of Music in Stockholm where she graduated with a Masters in Church Music, studying under renowned professors Eric Ericson and Anders Eby. In 1994 she began her career with a position as choral master and organist in Uppenbarelsekyrkan, Hägersten.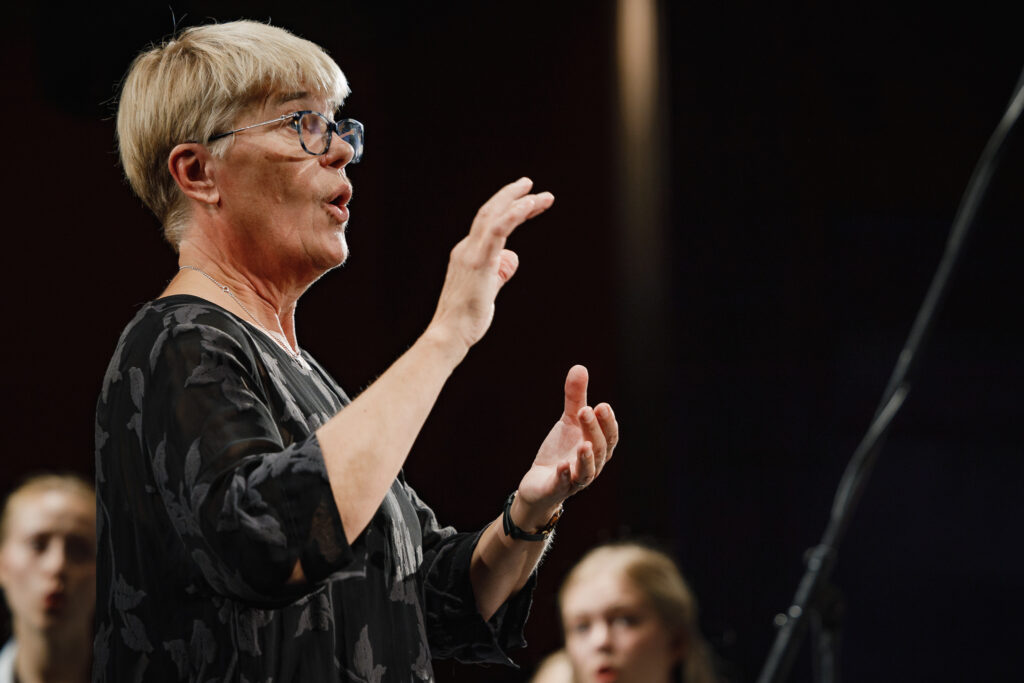 Kerstin has been the driving force behind developing the successful musical scene in Uppenbarelsekyrkan, with children's and youth choirs of various ages and adult choirs performing at high levels. She has had many successes in choir competitions with Hägersten A Cappella, and has recorded various CDs. Since 2021 Kerstin has been a lecturer in Church Music as part of the Church of Sweden's educational institute in Uppsala. In the autumn of 2009 she received the Sankta Cecilia prize, awarded by the diocese of Stockholm for the eminent and high quality music of the congregation of Hägersten. In 2017 she was awarded with a prize from Sveriges Kyrkosångsförbund (the Swedish Church Music Association) for her outstanding work leading youth choirs.
Kerstin Börjeson is currently working as a lecturer and pedagogue in choir methodology and choir conducting. For many years she was a member of the board of Föreningen Sveriges Körledare (the Swedish Choral Directors Association), and during 2016-2020 she took over as chairman. In 2022 she was elected a member of The Royal Swedish Academy of Music.
Contact
Would you like to know more about Hägersten A Cappella, book the choir for a gig or make an audition to participate? For further information please contact conductor Kerstin Börjeson. E-mail:
kerstin.borjeson@svenskakyrkan.se